The world of false eyelashes is extensive. Many options are available on the market, and choosing among them can be overwhelming. That is why we have done the research for you and narrowed it down to two options: silk eyelashes vs. mink eyelashes.
Both these false eyelashes are amazing and can be used as a substitute for eyelash extensions. Of course, the one you choose depends on your preferences and use. To help you make an informed decision, here is your complete guide to silk and mink eyelashes.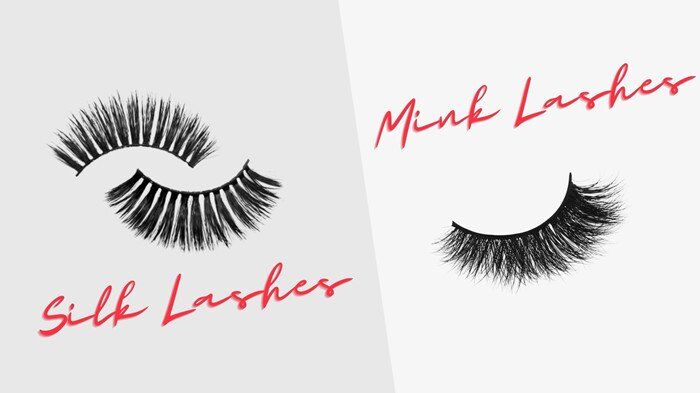 All You Need to Know About Silk Eyelashes
Despite the name, silk eyelashes are not made of 100% silk. That is because natural silk is incredibly soft and will never be able to hold its shape or curl. So, silk eyelashes are a mix of synthetic-based silk fibers plus natural silk.
This allows the false eyelashes to stay soft while retaining their curl and shape. They come in a variety of styles, shapes, and thicknesses. These eyelashes may be synthetic but they are high in quality and give the eyes a natural look.
If you have naturally weak lashes or want to make your natural eyelashes more prominent, this is the ideal choice for you.
Here are some pros and cons of silk eyelashes.
Pros
Don't cause any allergic reactions
Retain shape and curl incredibly
Are durable
Are versatile, as they come in different colors, finishes, etc.
Can be used to achieve a natural or dramatic look
Cons
The sheen and finish can vary between brands
That is everything you need to know about silk eyelashes. Now, let's move on to mink eyelashes.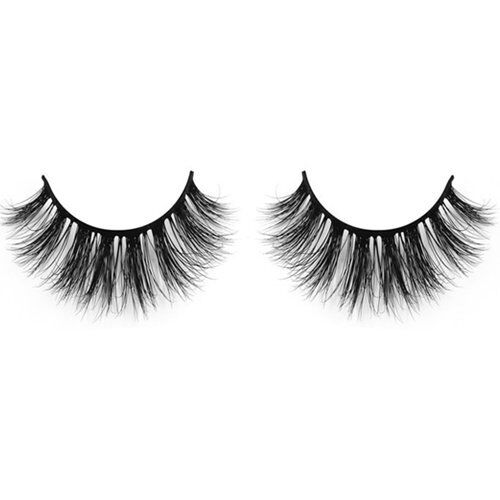 All You Need to Know About Mink Eyelashes
There are two types of mink eyelashes: natural and faux. Natural mink eyelashes are ultra-fine, of superior quality, and provide a natural look. The fibers are much thinner than real lashes, so they are comfortable to wear for long periods.
They are known for giving your natural lashes an uplifting, elegant, subtle, and comfortable look. However, the only problem is that you will need to curl them again and again. Mink eyelashes are very soft, so they don't hold a curl for long.
On the other hand, there are faux mink eyelashes. These are created from a premium synthetic material that is designed to mimic the look and feel of real mink. The faux option is much more affordable than the natural mink option.
Faux mink eyelashes also come in many styles. You can opt for natural, sleek, elegant, and many other styles depending on your preference. If you want to go dramatic, you can also opt for thicker mink lashes.
The best part is that faux mink holds the curl well and doesn't require regular maintenance. Here are some pros and cons of mink eyelashes.
Pros
Long-lasting
Considered luxury and chic
Provide a natural look
Cons
Must be handled delicately
That is everything you need to know about mink eyelashes. You can use lash tools to apply all these lashes, as they are incredibly convenient. So, which one do you prefer? If you still can't decide, keep reading.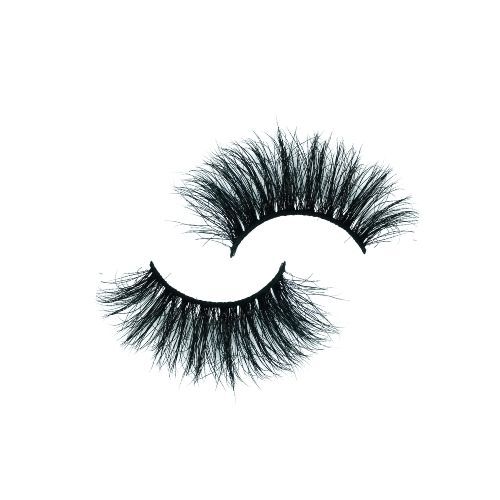 Silk VS. Mink Eyelashes: What to Choose?
It can be challenging to determine which type of eyelash to choose. Ultimately, it all comes down to your preference. Once you figure out what you prefer, the answer will come easily to you.
Both these false eyelashes are made for a certain purpose, so here is what you should choose depending on your preference.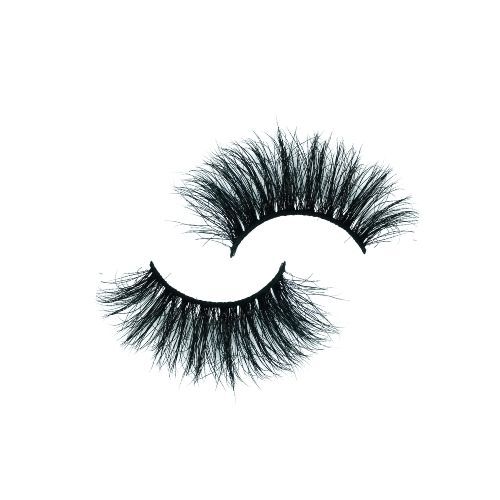 If You Want Durability, Choose Silk
A silk eyelash will last you much longer than a mink eyelash. You can wear it for hours without maintaining it, and it will still look the same. That is because silk eyelashes can handle anything.
If you take care of these lashes, they will last for a long time. That means money well spent. So, if you want something that will last for years, go with the silk option.
If You Want Comfort, Choose Mink
Many individuals want their false eyelashes to be comfortable, especially if they'll be wearing them for long periods. Mink is one of the lightest eyelashes out there.
Once they are glued to your eyes, you will not even realize that you are wearing false eyelashes. Such comfort is one of the top reasons why celebrities, influencers, and beauty bloggers opt for mink eyelashes. These include Kylie Jenner, Shay Mitchell, Lady Gaga, and many others.
Even if you opt for dramatic and thick mink eyelashes, they will still be incredibly lightweight. You will be able to glue them on with ease and they will come out without a fuss. If comfort is your priority, mink eyelashes are a perfect choice for you.
If You Want Low Maintenance, Choose Silk
Two things will make mink eyelashes high-maintenance: mascara and pulling tightly. If you want a dramatic look, you can't use mascara on mink eyelashes. That is because it will be incredibly hard to clean the lashes, as the mascara can damage the hair.
Instead, you must handle mink eyelashes delicately. Pulling on them too hard will damage your own eyelashes. That is why you must be incredibly careful when handling your lashes.
Mink eyelashes are high-maintenance. You will need to take care of them so that they don't lose their shape. On the other hand, silk eyelashes are very low-maintenance.
Silk retains its shape well and does not easily lose curl. That means you won't have to spend as much time making the lash look good. If you want something hassle-free and low-maintenance, silk eyelashes are the ideal choice.
If You Want a Natural Look, Choose Either
One thing that both these eyelashes have in common is that their fibers are as light as a feather. That is why, if you want your eyelashes to look natural, you can opt for either. Both are subtle and natural.
However, mink eyelashes will give you a more natural look. They are matte and they taper at the end, just the way real eyelashes do. That is why their effect is much more natural.
Silk eyelashes are just as good at providing a natural look. Their fiber is incredibly soft and they can be used for a subtle look. Of course, you will need to choose a thinner eyelash because silk eyelashes come in many styles.
Some of them are incredibly dramatic, so you will have to go for a style that provides a more subtle and natural look. Once you do, no one will know that you are wearing false eyelashes. Yes, they are that good.
If You Want a Dramatic Look, Choose Silk
Silk eyelashes are much thicker than mink eyelashes. Of course, that means you can use them to create a dramatic look. With silk eyelashes, you will be able to add some drama and intensity to your eyes.
They will retain their shape and curl, which means they can give you a much more dramatic look than mink eyelashes. You can also use various lash tools to increase the intensity of the eyelash depending on the type of look you want to create.
Besides that, silk is known for absorbing pigment much more easily than mink. That means you can achieve a dramatic look with deep, dark colors. If you want your lashes to look rich black, go for silk.
In the end, if you love wearing dramatic false eyelashes that create an intense look, you should opt for silk eyelashes. They will add all the drama you need.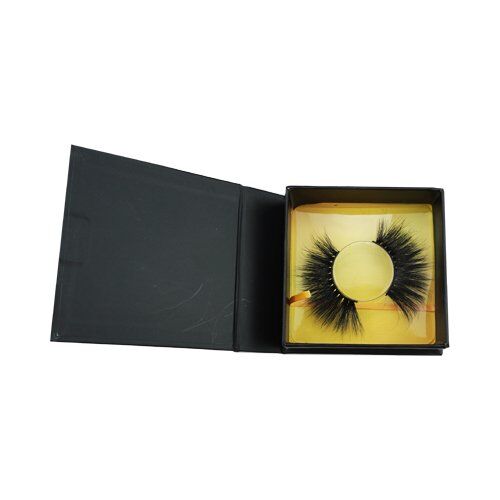 Final Verdict
So, should you choose silk or mink eyelashes? That depends on you. Silk eyelashes are easy to care for, can be used multiple times, and come in various styles. The best part is that silk eyelashes are also much more affordable than mink.
If you want something affordable, intense, stylish, and low-maintenance, silk eyelashes are a perfect choice. On the other hand, if you prefer something comfortable, lightweight, and natural, then mink eyelashes are perfect for you.
While mink eyelashes are more expensive, you can wear them up to 25 times. However, keep in mind that you can't pull the mink eyelashes. They are similar to human hair and are incredibly soft, so pulling them might cause damage. You must handle them delicately.
What are you waiting for? We offer all types of false eyelashes and lash tools. Browse our collection to find the perfect eyelashes for you.