Did you research "Is selling lashes (eyelashes) profitable?" in Google before or now? Are you confused about how I can make big money from the mink lashes business? Or Are you also thinking about "how do I get more lash clients. Those are hot google research questions that we found.
There are many answered told us: Yes, selling eyelashes is profitable. But no analysis to support it. You are afraid and hesitant about starting a lash business. But Did you know the global false eyelashes market registering a 5.4% CAGR(compound annual growth) over the forecast period? The false eyelashes market is expected to get around USD 1,885 million by the end of 2024. why? Because false lash extensions add natural and elegant volume to one's natural eyelashes and enhance the eye's look when chosen the right style. Due to the customized and unique demand increasing, there will be a strong influence on the makeup market growth.
Above the professional false eyelashes analysis, it's worth investing. Now let's show you how to get big money from the eyelashes business. It is a particular plan including but not limited to set price, quality, custom packaging, social media, etc.
Make Sure You Truly Love And Passionate About The Eyelashes Business.
Girl, you want to be your boss. You must pay more attention to your field. It's not only the mink lashes business but also others business are the same. There are many things you need to deal with. Something you will spend a lot of time to do, for example, how to find a professional wholesale mink lashes vendor, do I custom the lashes packaging, etc. (if you have those problems, pls check our how to start a lashes business)Please make sure it's something you really love and passion so that you won't get bored.
How Can I Set The Lashes Prices To Make Profitable?
When you ordered from professional wholesale lash vendors, like us – SLEE LASHES. Our wholesale mink lashes plan is popular and affordable. The bulk mink lashes plan has helped more than 100 clients to start the mink eyelashes brand successfully. You can find our customer reviews on the affordable mink lashes plan page.
Do you know how to price your lashes products? It's one of the most important things. My customer Nick, who ordered from SLEE LASHES over USD 5,000, will share her experiences.
'When I was studying at university. I started to upload my makeup tutorial to Youtube and create my own Channel. Every girl wants beautiful and unique in life, so do i. I share my makeup skills, share the eye shadows I used felt better. I try to be a good friend who can teach girls starting makeup. Then I got more subscribers. One day, I thought why I don't sell something to earn extra money, then I started. " said Nick.
After research, Nick decided to sell strip lashes. Now, she found our website on the internet. Nick contacted our overseas sales – Iris, they talked about mink lashes, silk lashes, and custom lashes packaging for several days. Owing to Iris offer extremely professional products and services to Nick. She ordered around USD 500 includes high-quality mink lashes and custom lashes boxes as the first order.
Now, Nick cooperated with SLEE LASHES for over one year. Her orders are steadily growing every month. Are you interested in how did she set the price to make it profitable? Come on. There is the secret of the set price.
You buy mink lashes from USD 10-35 per pair. When you are starting to sell lashes, how can you make it profitable? Who are your target consumers? There are real scenarios for you.
When Nick bought from SLEE LASHES. She wants to buy high-quality lashes at affordable costs. Nick browsed our website. She chose the lashes styles, which are her interested. Nick also selected a custom lashes packaging on our page. Then send those photos to Iris. After the deep contact, Iris calculates the wholesale price is USD 5 per mink lashes with customized lashes cases. Nick agreed to that price and ordered 100 pairs for the first order.
She set the retail price is USD 10 for regular 3D mink lashes, USD 15 for 5d 25mm mink lashes. We also recommend adding USD 5-10 as a small lashes entrepreneur. (The majority of people can afford your products). Remember, your prices have to be realistic and fair. If you are charging triple or more than other sellers, you will be failed. Modern-day is more comfortable for someone to choose the more affordable option.
Nick did an excellent job! When the packages have delivered to her, she took lashes photos and videos by herself. Nick posts makeup tutorials about how to apply lashes on YouTube and Instagram. Nick told her subscriber and follower, she starting sell lashes. The potential consumer sees lashes shape, texture, band's flexibility on her video. So she sold out 100 pairs of different mink lashes in 2 weeks. Nick earned an extra $1,000, only half a month. She doesn't bash other products. Nick pays tremendous attention to her mink lashes quality, and she trusts her works are the best ones!
One tip, if you have enough investment. You can seek influencers to offer their free products or pay money. Then ask them to share your lashes products on YouTube and Instagram. It's the easiest and quick way to increase your brand awareness.
Protect Your Lashes Brand. Say No To Awful Mink Eyelashes.
Recently, a lash vendor finds and contact Nick, who said, "we have the lowest price mink lashes, one pair $1.25, No minimum order quantities. Do you want it?" Nick absolutely refused him. She talks this thing to Iris. She doesn't know why somebody makes sure they can get real mink lashes by $1.25 per pair. Nick trusts Iris and trusts SLEE LASHES mink lashes quality. Her rejection protects her lash brand and customer's benefit.
This is where almost 40% of people screw up. Iris told Nick, some lash entrepreneurs order low quality with low prices. Why those prices are low. Because of the Unclean warehouse, Unsterilized materials, low-quality lashes band, No quality control, etc. Also, there is some tricky lashes vendor uses faux mink lashes instead of real mink hair. Those are definitely different products.
Nick said," she will always order from us. We are a one-stop factory. There is a wide selection of false eyelashes categories, private custom lashes packaging, and a strict quality control team. Work with us is convenient and jubilant."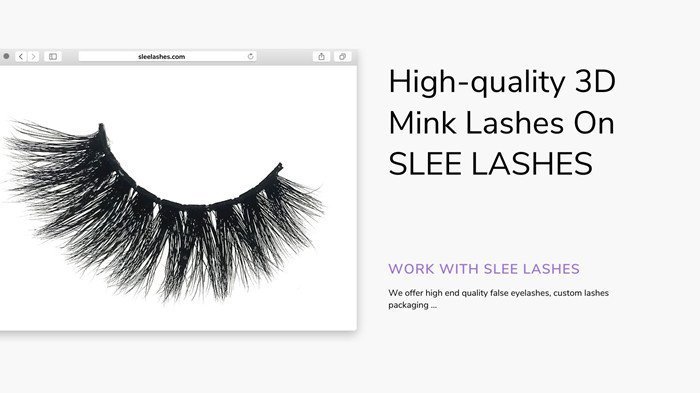 Remember, don't sell inadequate eyelashes unless you want to draw your customer's attention to other products. You can get RIGHT people, and RIGHT mink lashes plan on SLEE LASHES.
Earn More Money By Customized Lashes Packaging.
The majority of our customers ordered products with custom lashes packaging together. The good outer packages will enhance your lashes brand in the customer's mind. The beautiful lashes packaging will attract most of the potential consumers. On the above, We said Nick sells lashes from USD 10-15 with custom lashes boxes. But if you don't have the custom packages, we recommend you start USD 8 -10 per pair.
We suggest doing custom lashes packaging if you have enough investment. The excellent and unique lashes boxes can add extra product value. The custom lash boxes also will help you improve your lash profitability. Nick often updates different lashes boxes styles. Christmas is coming. She just ordered from us with new Christmas lashes packaging. She said I offer different lashes packages with a variety of mink lashes styles. They are very popular. Most of the old customers introduce some new consumers to me. It's so exciting! You can make logo stickers if your investment is not enough, by the way. ( If you are interested in how to custom lashes packaging, contact us)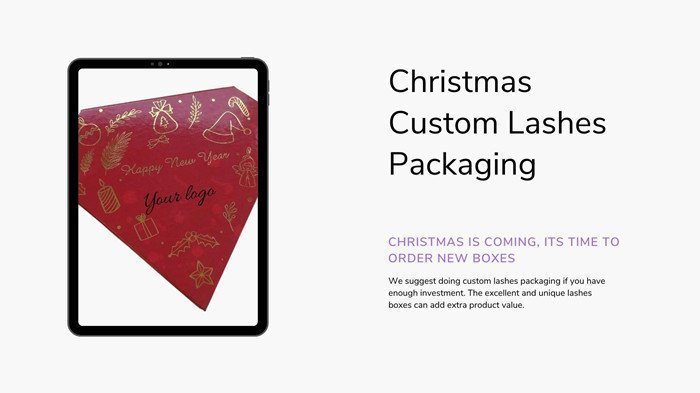 The important thing is to supply professional and good after-sale services to your customers. No one wants to buy anything from an irresponsible individual.
Don't Forget Post Products On Social Media
Nowadays, many lashes brands are collaborating with influencers and celebrities to launch new products. Especially, on YouTube and Instagram. Most makeup companies have been heavily depending upon social media influencers to create their lashes style images among buyers. For instance, Nick's brand also seeks influencers to promote her mink lashes.
Suppose your marketing costs is not enough. Do your job, post your product tutorials and photos on the social media platform. Don't just post lash products. You also can share your makeup skills, daily routine, etc. If you got to like and comment, try to reply to everyone. Instagram will enjoy your good interaction. You can not only get more lashes order but also get more followers.
By the way, Nick offers discounts every Friday. You can do it either.
Based on a detailed analysis, Are you confident to start an eyelashes business and confirm that selling lashes are profitable? If so, contact us to begin selling eyelashes profitable.